Leila Shrazi is the younger sister of Navid Shirazi. She is a year younger and is a senior in high school at the beginning of season 4. After her mother, Atoosa Shirazi, moves to Switzerland, she stays behind to live with Navid and Silver.
She later fakes a kidnapping in which she asks for $50,000.00 in ransom money so that she and her boyfriend, Darius, could open a tattoo parlor in New Mexico. Navid is furious with her after he and Silver find her having a good time during her "kidnapping".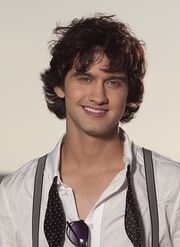 She is grounded by Navid and Erin while always striking out at them. When Navid and Silver are busy one night, they enlist Annie Wilson to watch Leila. However, Annie is roped into being an escort by Bree and has to take Leila with her. Leila quickly figures out the situation and extorts Annie for a cut of her profits.blackmail !!
After her 18th birthday, she tells Navid that she never stopped seeing Darius and will be doing whatever she feels like from then on. She is not seen again in the series .